Regular price
$299.00 USD
Regular price
Sale price
$299.00 USD
Unit price
per
Sale
Sold out
42 orders in last 30 days
If you have payment problems, pls refresh the page or "Chat with us".
Free Shipping: 9-15 days to arrive.
Express Delivery: 5-8 days to arrive.
Warehouse: China/USA/Europe, Can delivery to all countries, tax included.
Free shipping & User guarantee

Free Shipping:Ships within 3days, arrives within 10-18 days
Paid Express: Ships within 2days,arrives within 4-7 days
Money back guarantee: Quality problems, return and exchange within 30 days
12-month warranty, long-term after-sales service
No need to register account, Order tracking url will send to your email
More FAQ:FAQ
Iflight Protek35 Specification
| | |
| --- | --- |
| item | value |
| Place of Origin | China |
| Brand Name | iFlight |
| Model Number | ProTek35 |
| Material | Plastic |
| Power | Battery |
| Function | Headless mode, Altitude Hold Mode, 3D View Mode, With Camera, With LED lights, with G-sensor, 3D flip, One Key Takeoff / Landing, APP Control, With Remote Control, Foldable |
| Operator Skill Level | Expert |
| Control Type | Remote Control |
| image transmission distance | 1KM |
| Product name | FPV Racing Drone |
| Wheelbase | 151mm |
| Bottom plate thickness | 3.5mm |
| Motor | XING 2203.5 3600KV (4S) |
| Body Size | 118*94.5mm |
| Top plate thickness | 2mm |
| Top and bottom plate spacing | 20mm (aluminum standoff height) |
| FC pattern | 25.5*25.5mm / 20*20mm |
New iFlight Cinewhoop! The ProTek35 Analog BNF!
After our very popular 3inch Cinematic EVA bumper BumbleBee and Green Hornet CineWhoop series, we were trying to increase
performance and reduce weight for an even better and longer flight experience for a wide variety of use.
Our all new
3.5inch
project is finally ready for all you content creators or those guys who like to wear some protection every now
and then. Prop protection is what we're talking about here...
ProTek is not necessarily just a Cinewhoop series but far more. Equipped with our all new
2203.5 motors
for more power and less
heat. We were able to increase speed and thrust by 50% compared to it's 3inch predecessor which gives a lot more room for a lot
more fun. Our GPS measured maximum speed was above
120km/h
and a maximum thrust of 750g per motor (3kg in total) would even carry
heavier cams than a Gopro but also do some loaded punch outs or light freestyle moves.
A lot of thought was put into the different assembly options. Our stock BNF will ship in the standard configuration but you can either do a pusher mod (flip the build upside down) or a lite mod (remove the protective plastic for weight optimization).
Durable plastic protectors with copper standoffs, portable compact design, easy accessable UBS port without disassembly, LED
battery status, lost model buzzer and a universal GoPro TPU for a full size or naked GoPro. If you wanna go extra light, get one
of our 5V balance plug GoPro power cables to get rid of the internal battery.
Check out our iFlight Protek Collection, the Protek35 Collection, all our Analog BNF/PNP/RTFs and the rest of our iFlight Products
!
Features
:
* No Props or frame in view!
* High performance
True-AIO Board Beast Whoop F7 AIO 45A
to save weight and space
* T700 Quality Carbon (40% more tensile strength compared to common
3K carbon
)
* Lightweight
one-piece frame design
(Less flexibility, more Rigid, more Durable)
* Low Resonance frame construction (Less Jello, more Cinematic footage)
* Caddx.us Turbo
Eos V2 FPVCam 2.1mm 16:9
NTSC
* Butter smooth
2203.5 3600KV
(4S)
* Pre-tuned with smooth freestyle settings
PRE-TUNED & PRE-SETUP: * Don't worry about tuning, we did that for you already! A basic PID- and Filter tuning was applied for a
great flight experience!
* To restore lost tunes or updates, please check our linked article on "Firmware/Factory Dumps"
* Angle-Mode (self balancing level mode) is enabled by default to make sure your first flight doesn't end
in a mess!
* Please check our linked article on "How to disable Angle-Mode, activate Acro-Mode"
ProTek35 BNF Specs: * Board Beast Whoop F7 AIO 45A (LINK)
*
Motor
: XING 2203.5 3600KV (4S)
*
Wheelbase
: 151mm
*
Body Size
: 118*94.5mmmm
*
Bottom plate thickness
: 3.5mm
*
Top plate thickness
: 2mm
*
Top and bottom plate spacing
: 20mm (aluminum standoff height)
*
Propeller size
: 3.5 inch
*
FC pattern
: 25.5*25.5mm / 20*20mmmm
*
FPV cam spacing
: 20mm
*
Weight
: 305g (without battery)
ProTek35
Quad BNF Included Components and Parts
pre-built and tested Quadcopter * 1 x ProTek35 Frame
* 1 x Caddx.us Turbo Eos V2 FPVCam
* 2 x TPU camera side plate soft mount
* 2 x Nazgul 3535 propeller (Set of 4 - Color May Vary)
* 1 x iFlight Lipo Strap 15*150mm (Color May Vary)
* 1 x iFlight Lipo Strap 15*250mm (Color May Vary)
* 1 x GoPro TPU bottom stand black (GoPro Protector not included)
FC // Beast F7 AIO
Specification
: * MCU: BGA-STM32F745
*
Gyro
: MPU6000
*
Blackbox
: 8Mb Onboard Flash
*
BEC output
: 5V 2.5A
*
Barometer
: BMP280
*
Connector
: Micro-USB
*
OSD
: AT7456E
*
FC Firmware
:IFLIGHT_F745_AIO
*
Mounting pattern
: 25.5*25.5mm φ3mm
*
Dimensions
: 32.5*32.5mm
*
Weight
: 8.5g
ESC // 45A 2-6S
Specification
: * Uarts: 5
*
Current Sensor
: Yes
*
Input
: 2-6S LIPO
*
Current scale
: 200
*
Constant
: 45A / Burst: 50A
*
BLHeli
: BLHeli-S
*
Telemetry
: no
*
ESC Firmware
: BlheliS G-H-30
*
Mounting pattern
: 25.5*25.5mm/Φ3mm
*
Dimensions
: 32.5*32.5mm
VTX// 5.8GHz SucceX Micro 300mW VTX * Power: PIT/25/100/200mW/300mW
*
Antenna interface
: IPEX (UFL)
*
VTX protocol
: IRC Tramp
*
Size
: 13.5x14.5mm
*
Weight
: 1.4g
Size Extender (stackable adapter)
: * Mini VTX size: 20x20mm, 2mm hole, total weight (incl. VTX): 3.4g
* Whoop VTX size: 16mm/25mm, 2mm hole, total weight (incl. VTX): 2.9g
PACKAGE INCLUDES
:
* 1 x iFlight ProTek35 CineWhoop Analog - BNF
Iflight Protek35 Review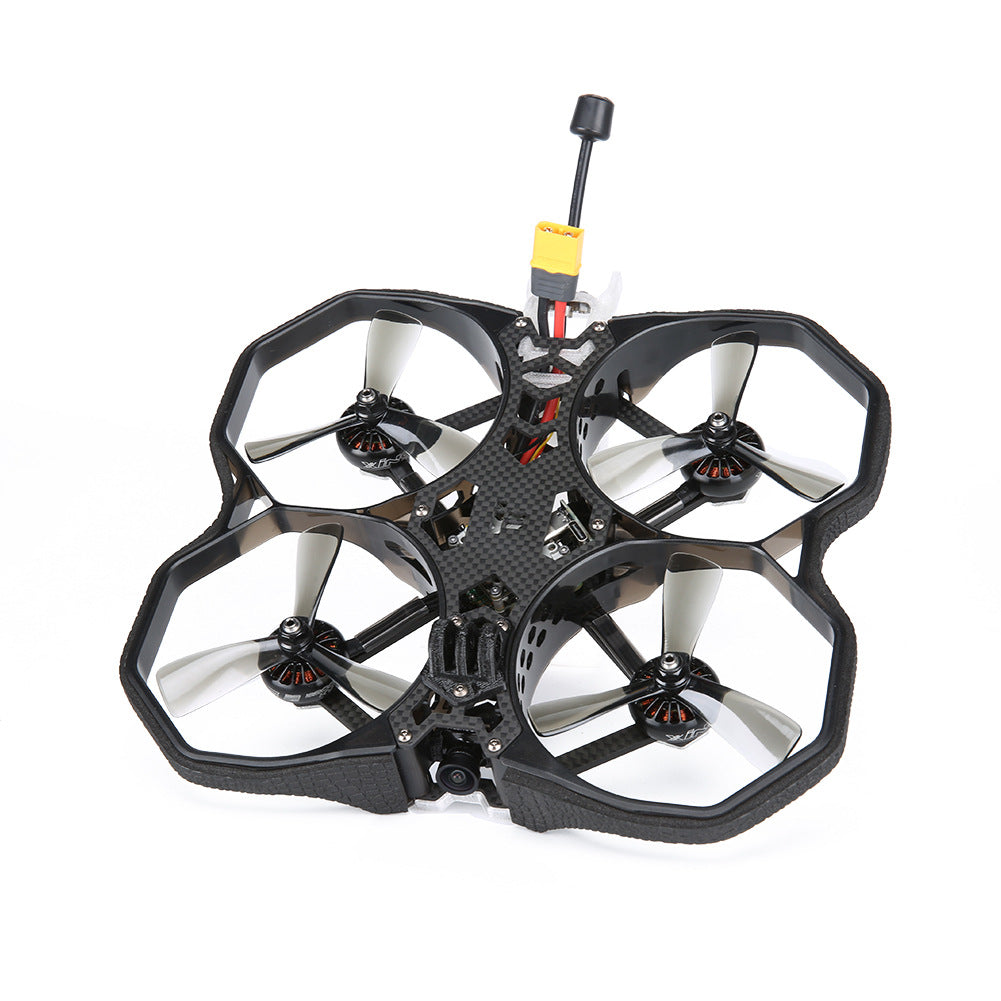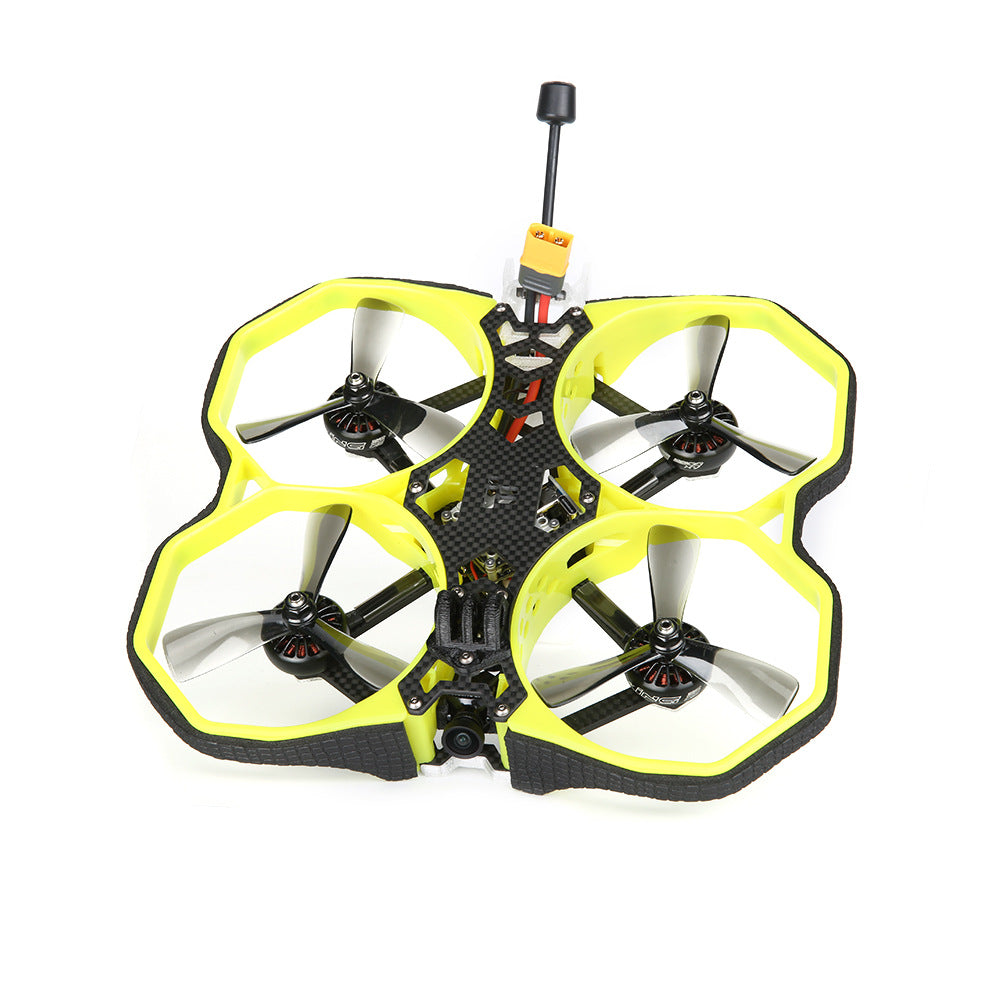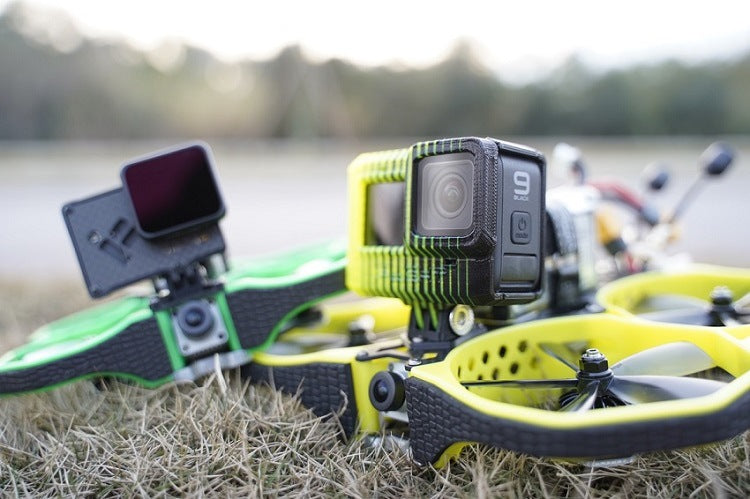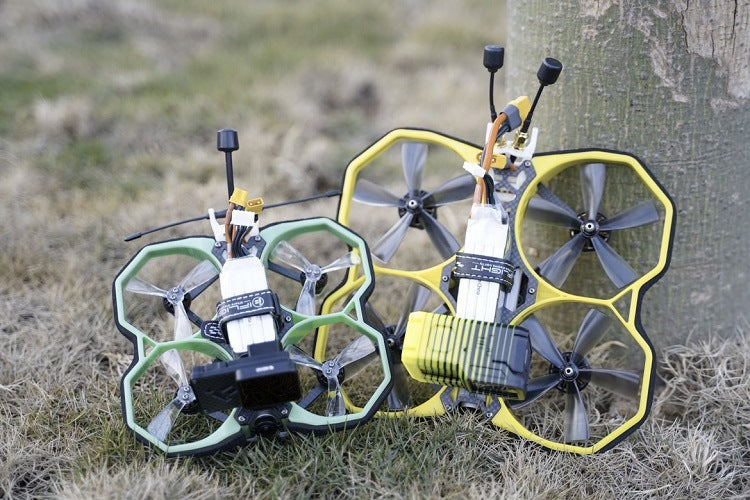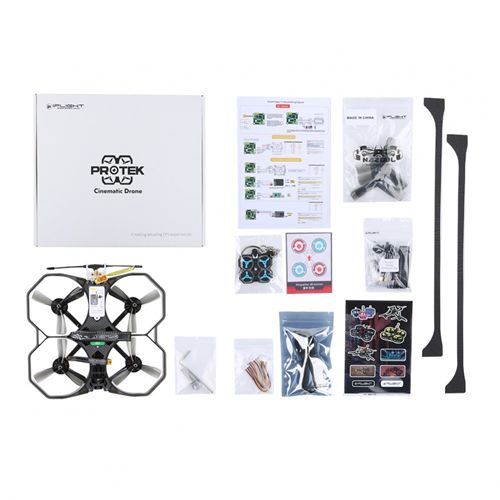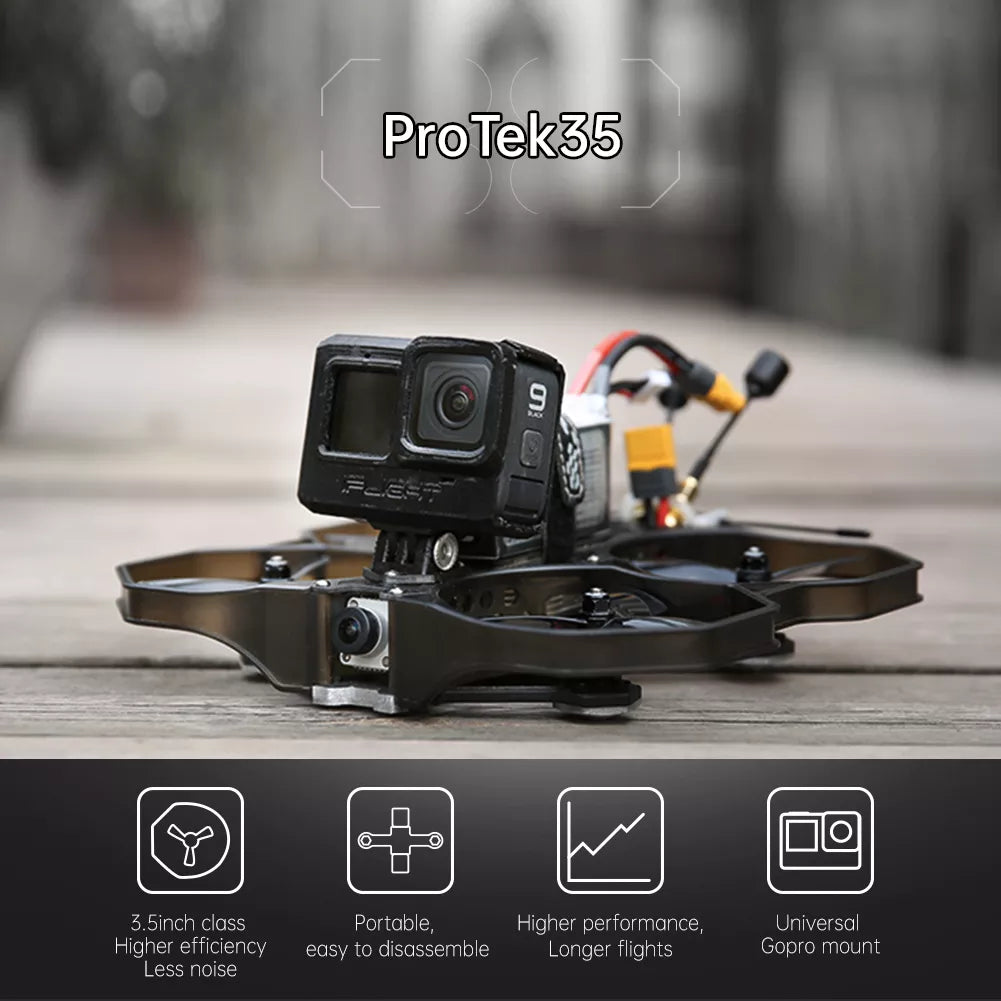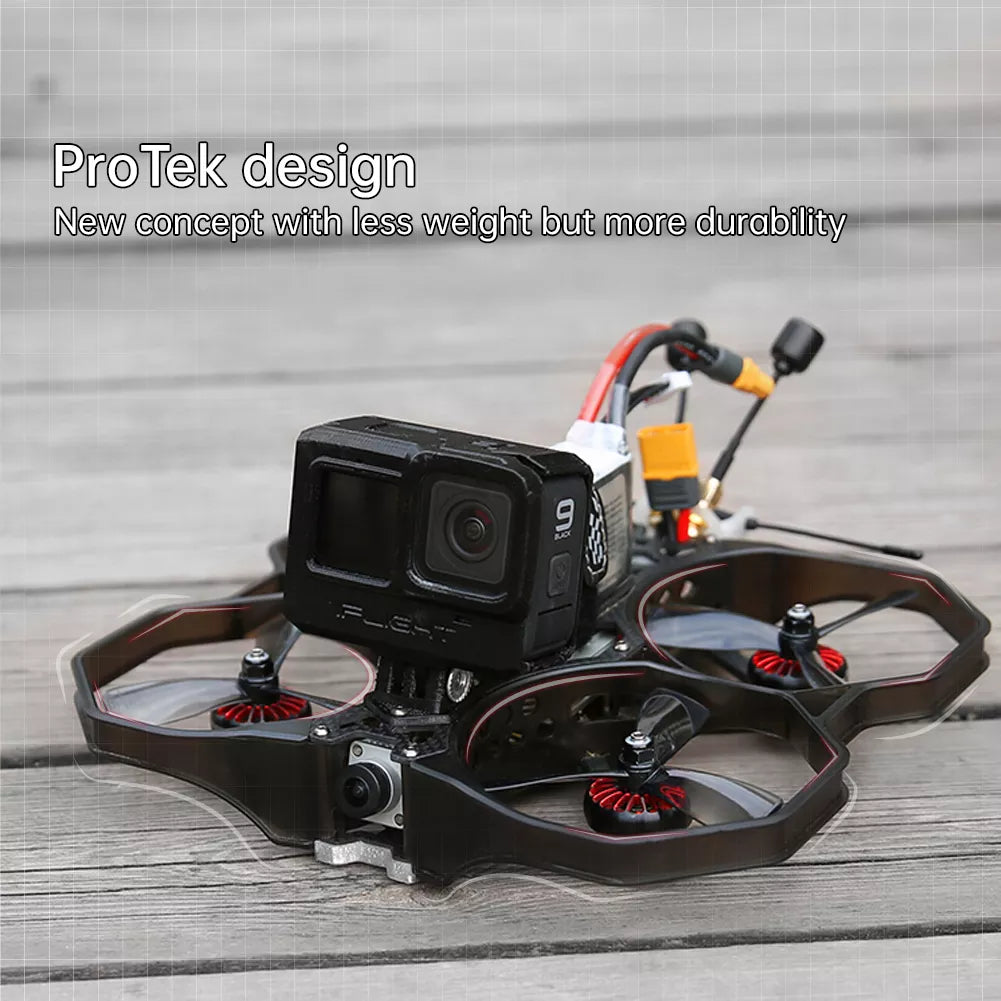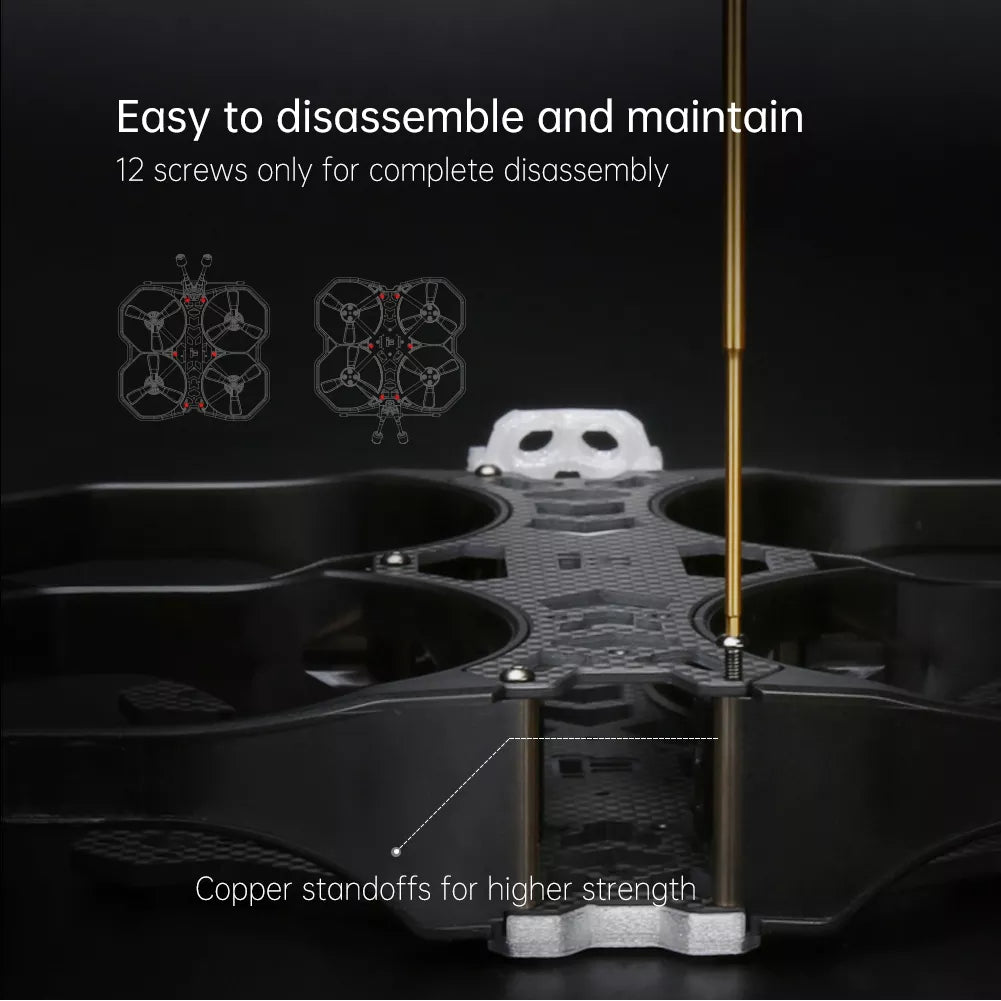 Share
View full details